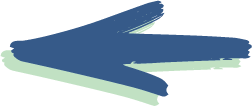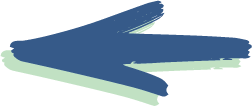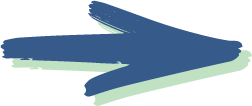 ONLINE
WE ENCOURAGE YOU TO
ALACHUA COUNTY TAX COLLECTOR


Click HERE
to Book an
Appointment

2016, 2017, 2018, 2019, 2020, 2021, 2022, and 2023
Legacy Award Recipient for Outstanding Financial Operations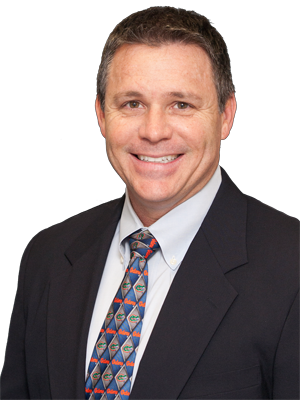 WELCOME,
JOHN POWER,
TAX COLLECTOR
"I am extremely proud of each and every member of our staff for doing their part to ensure the accuracy of these public funds.
They are an exceptional, award-winning team and I am honored to share this achievement with them for the seventh year in a row."
-John Power
to the Alachua County Tax Collector's Official Site!
Serving Alachua County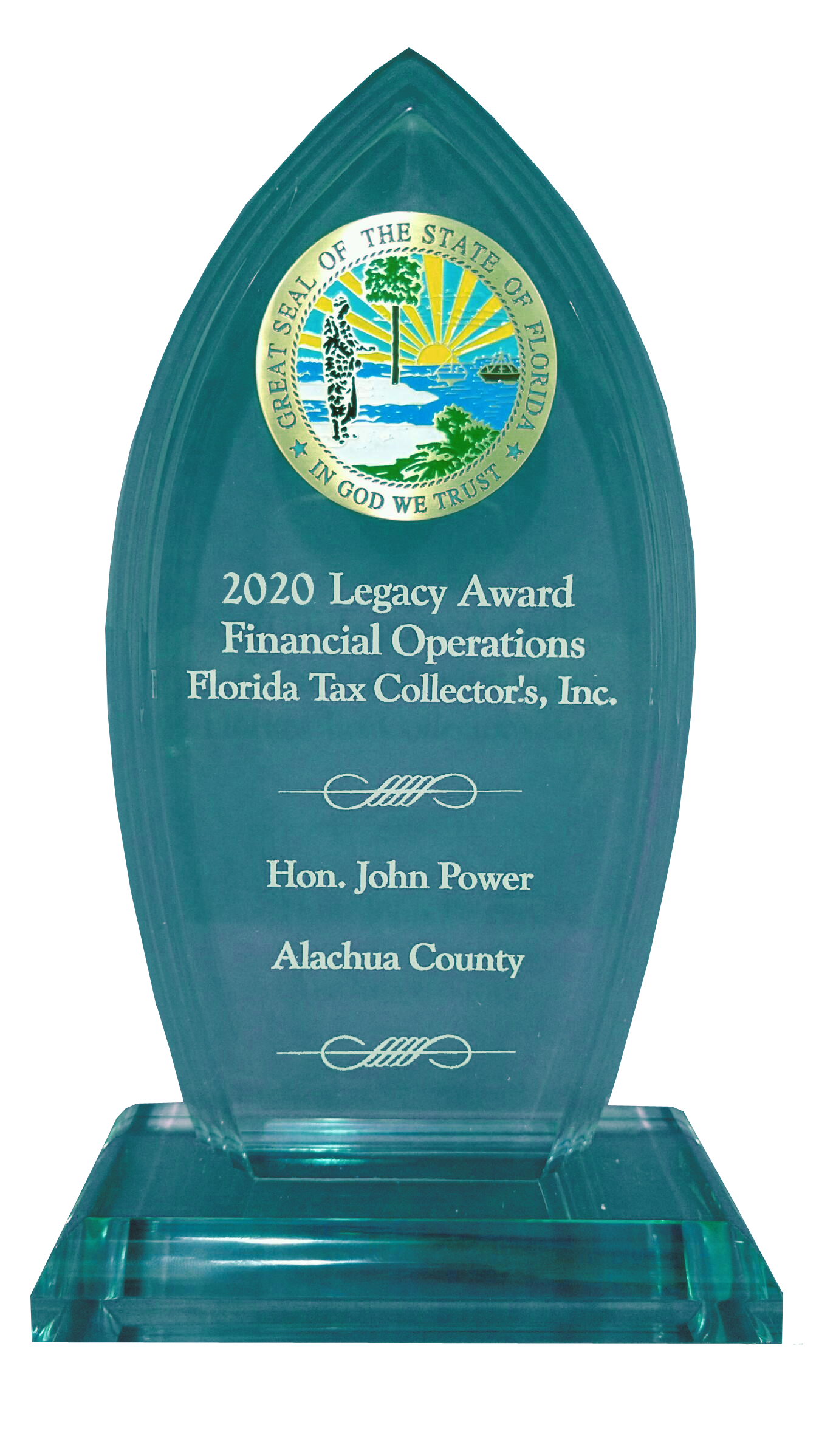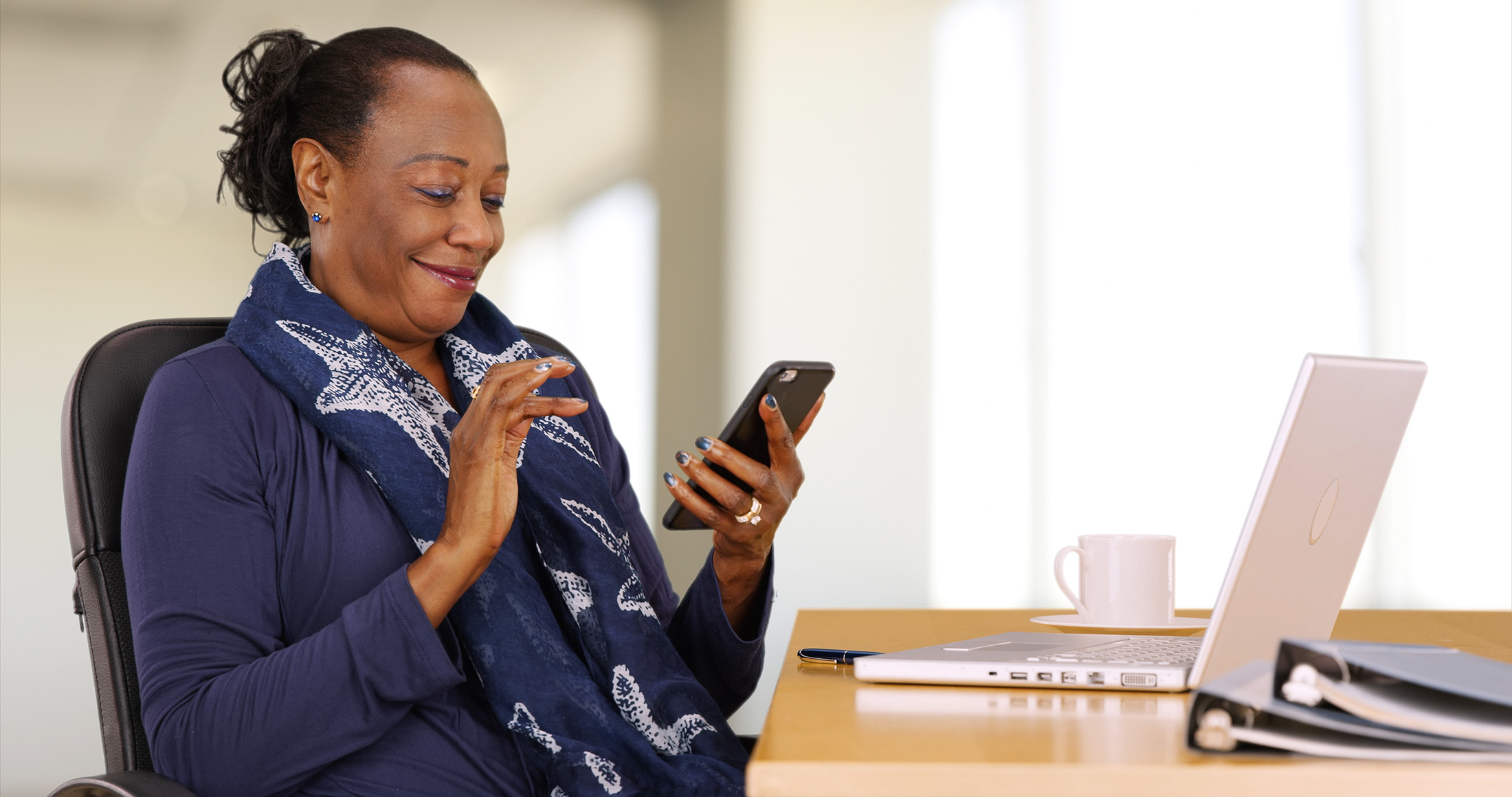 SAVE TIME.
PAY ONLINE!
to renew your Tag Registration
Click Here
Click Here
to pay Taxes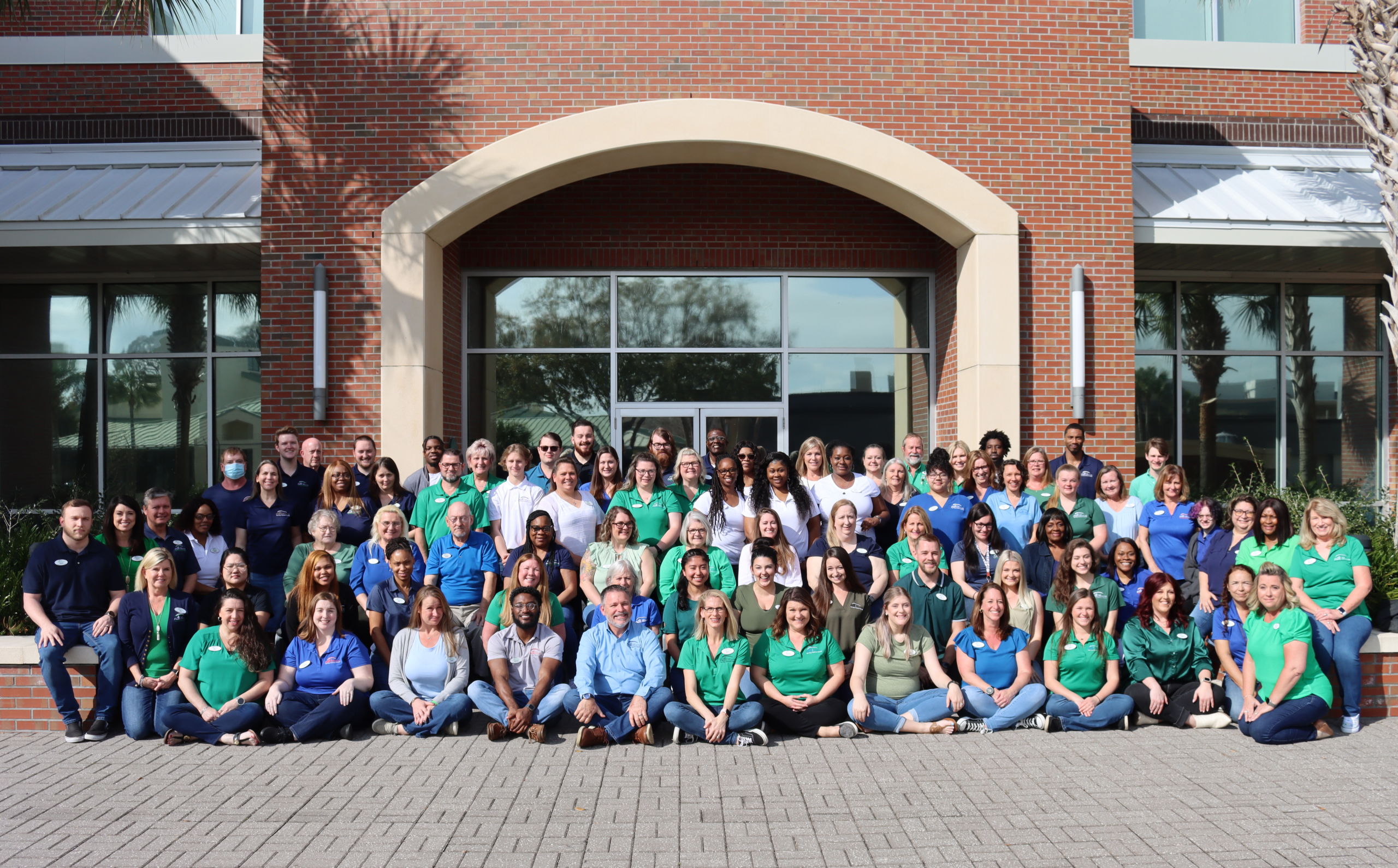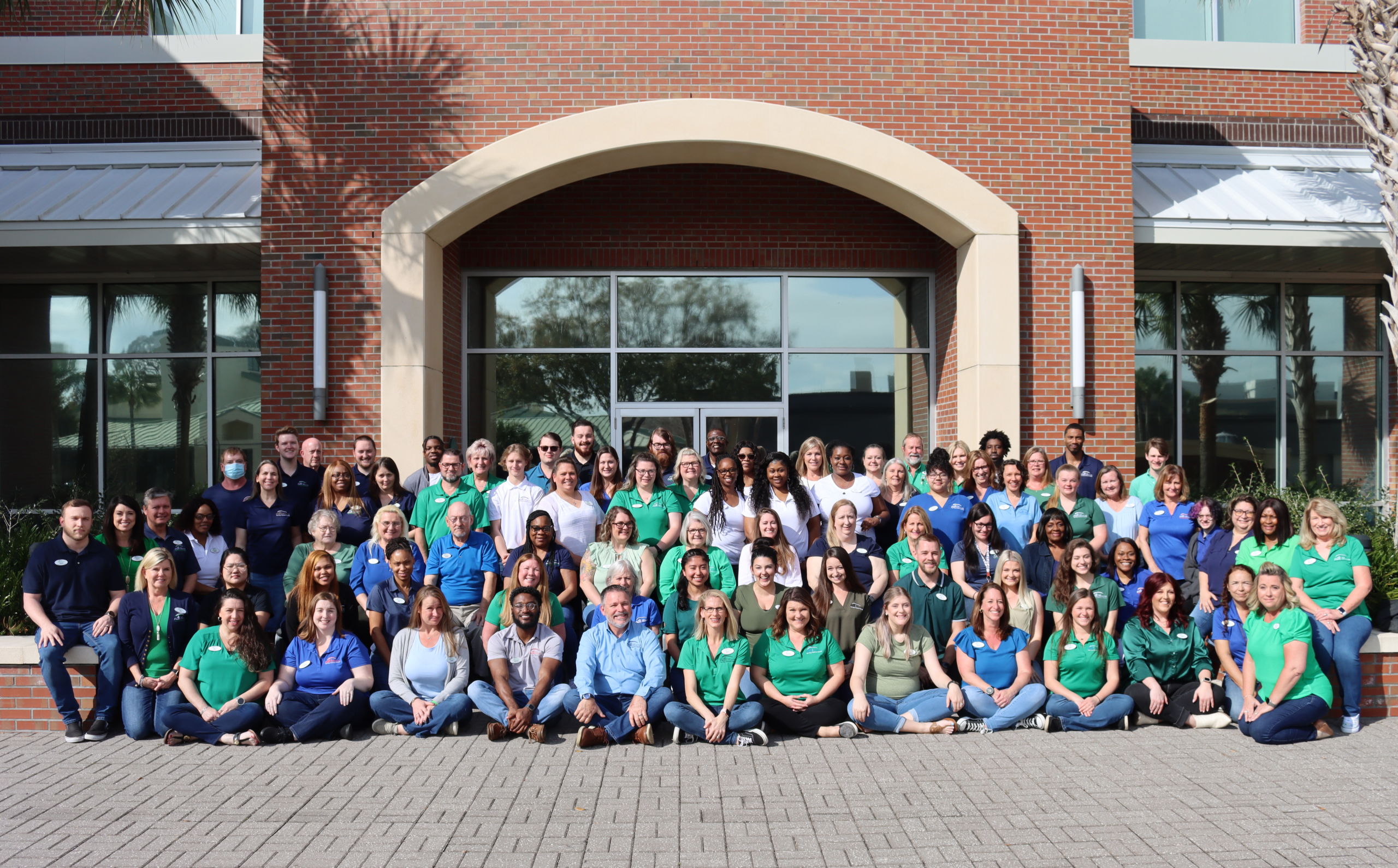 Tax Collector Team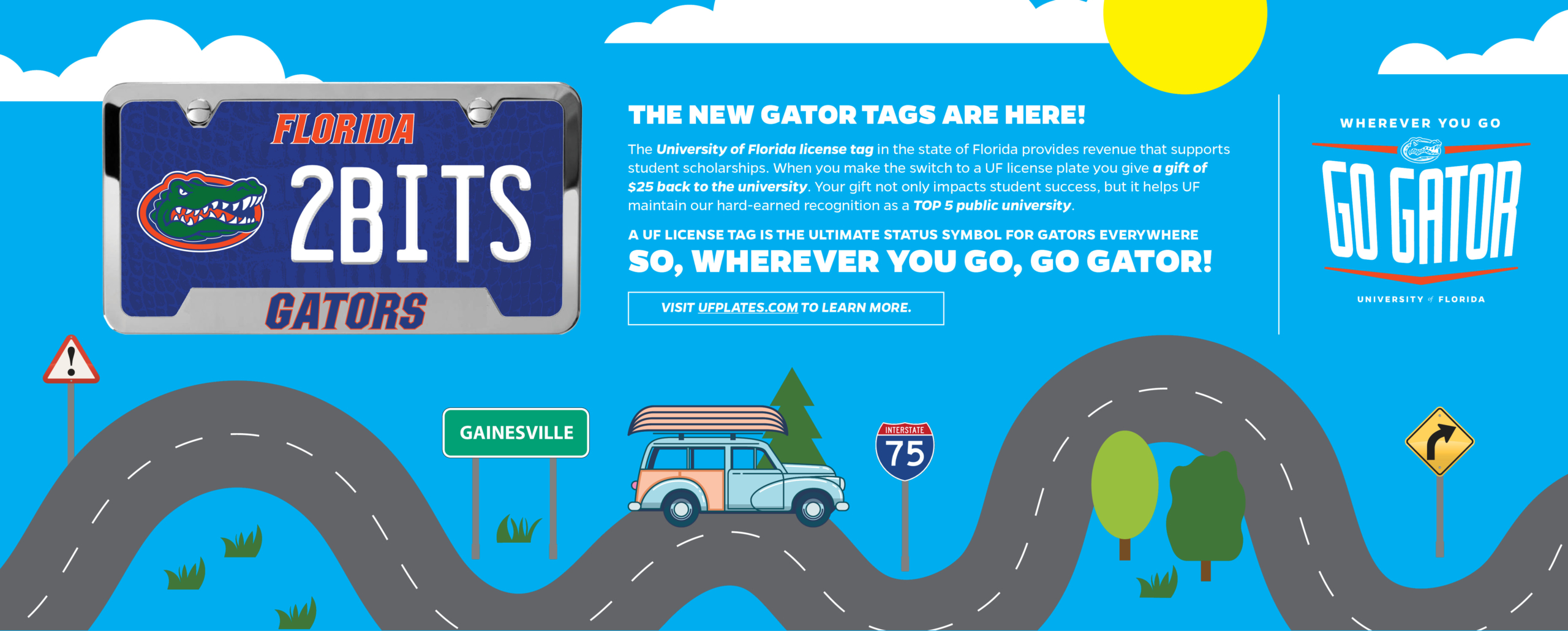 Auto Tag/ Vessel/ Mobile Home Renewals
Need to Renew?
Click below for RenewExpress.
Driver License Questions?

Click below for driver's license
information.
Need to Book an Appointment?
Click below for available appointment times.
Alachua County Tax Collector Recognized for Performance Excellence
ALACHUA COUNTY, FL – Tax Collector John Power is pleased to announce his office is the proud recipient of the 2022 Governor's Sterling Award for performance excellence in management and operations.  The Sterling award is presented annually to organizations and businesses that meet or exceed the Sterling/Baldrige National Criteria for Performance Excellence – a framework for achieving and sustaining organizational performance excellence and efficiency.  The Tax Collector's office is the only organization in the state of Florida receiving the prestigious award this year.
The award follows a rigorous assessment process based on criteria from seven categories:  leadership; strategic planning; customer focus; measurement analysis, and knowledge management; workforce focus; operations; and results.  The Sterling Council's panel of judges consists of six judges that are nationally and internationally recognized experts on organizational performance excellence in the Sterling/Baldridge Management System.
In support of its vision, "To be nationally recognized as a leader in organizational excellence and exemplary service", the organization has focused on maintaining a culture of innovation, continual process improvement, and respect.  Accordingly, all work at the Tax Collector's Office is performed in conjunction with an internally developed automated information management system called "JARVIS".  This innovative data analytics tool is custom designed and utilized to ensure all management and operational decisions are data driven and fact based.
Throughout the last four years, the Tax Collector's office boasts high performance ratings exceeding their comparative peer groups. Utilizing an innovative appointment system, over 80% of customers received service within 15 minutes while 50% of those were within 5 minutes.  Customer satisfaction was rated an average of 98%, transaction accuracy achieved an average of 99.8%, and workforce satisfaction attained an average of 90%. Consistently, costs have remained below budget and external audits are clean and error-free.
"We are an organization focused on continual improvement with the goal of mastering all aspects of organizational efficiency. This award shows the citizens of Alachua County our office is committed to excellence and is achieving great success," said Power. "I respect and admire every member of our team and thank them for their dedication and hard work. Receiving this award from the Sterling Council is an honor for our team and the entire community."
The Alachua County Tax Collector's office acts as an agent for multiple local and state agencies, providing a wide range of services to the public.  Total collections are approximately $390 million annually in taxes and fees, which are distributed among 25 taxing authorities.  The Tax Collector also provides services for Motor Vehicle titles and registrations, Driver Licenses including road tests, Concealed Weapons licenses, and Birth Certificates.
For more information about the Alachua County Tax Collector, go to AlachuaCollector.com.  For more information about the Florida Sterling Council, go to FloridaSterling.com.
Our leader, John Power, and the entire staff proudly support the United Way of North Central Florida.
Mr. Power is on the UW Board of Directors and 100% of the staff contribute to United Way through payroll contributions. In recognition of our consistent support throughout the years, United Way has awarded us with their highest honor, the G.A.V. Award (Give, Advocate and Volunteer). #LiveUnited
Really fast service. The DMV officer was very friendly and helpful. Best DMV I have been to so far. Thank you Alachua Downtown DMV.
We appreciate you for all that this office gives to our town. Exceptional service and compassion.
"I'm in the military and I have been having an incredibly difficult time trying to get help through MANY Florida DMV's, until I arrived here!
"This branch is very systematic and organized in making sure that masking and social distancing are followed in the premises. The staff are nice and very accommodating too. Thank you so much Alachua County branch!!"
Brenda was extremely helpful and kind.  She made this a wonderful experience.
Great customer service.  A big and gracious thank you to the staff a the NW branch, especially Amanda & Diana, for helping me. Both of them went above and beyond to help. Much appreciated!
Omar at the front counter is very professional and helpful.  He is an asset to the Tax Collector's office.  Superb customer service.
Whitney was incredibly knowledgeable, succinct, and effective in explaining DMV procedures.  That kind of initiative commends a raise.
Taylor W. was amazing! She answered all my questions efficiently. She went above and beyond!!
Whitney was wonderful! So helpful and knowledgeable.
The clerk was amazingly helpful.  Best DMV experience of my life.
Kimberly was so kind and responsive to me. Thank you.
Karen was incredibly helpful and accommodating with my issues registering out of state! She went above and beyond to help me!
Received my license yesterday. Very effective and professional process.  My thanks to the staff that made it happen.
Not a typical dmv! Friendly people, that actually help you.  Customer service is off the charts. Quick, easy process for changing my license to Florida along with getting a FL tag.  – May 2020
The folks here are SO NICE and incredibly helpful! They were so patient helping me get a license photo that didn't look completely washed out. No wait time, literally the nicest DMV experience I've had.
Great experience! Most friendly people I've experienced at a DMV/Tax Collectors office. Taylor was incredibly helpful and knowledgeable!
Should be the standard for any DMV. Compared to other DMVs I've been to, I feel like I'm in paradise.
The best DMV in the area, possibly the country, maybe even the world, it's so fast, easy, there's very nice people that work here. Couldn't be more happily shocked and please from a DMV. Go gainesville!
Easily the most pleasant and quick DMV experience I've ever had by a mile!
I had the pleasure of working with Whitney. So professional, kind, helpful and knowledgeable. She was wonderful and I was lucky to have her help me.
Best service ever in everything.
The representative was knowledgeable and focused on my experience and benefit. She made suggestions based on her knowledge and saved me time and money.
Debbie is very knowledgeable and most helpful person I have ever encountered at this office.
I was very distressed with a problem and Phyllis helped me through the issue to an approachable and hopefully positive end.
I am in the military and I have been having an incredibly difficult time trying to get help through MANY Florida DMV's, until I arrived here!
Fred was a great help. Great service and a great people person.
Dae-Leza is super helpful. She is kind, willing to answer lots of questions, has patience to repeat herself several times as I can't hear out of one ear.
Robert was very wonderful and patient.
Taylor was very professional and friendly. Taylor made me feel special and not nervous as I thought I would be. She is an asset to the tag office.
I like the area, very centralized, the wait time was fantastic. And the office was very clean.
The representative was very friendly and helpful.
Robert made me feel as though I mattered and wanted me to get the best service possible. He gave me all kinds of options for my situation.
Fred did a great job and went above and beyond by speaking spanish with me.
Janna was awesome in providing customer service. She was very knowledgeable in answering all of my questions. Great CUSTOMER SERVICE!
I wanted to take a moment to let you know that I received excellent customer service over the last week from Lori. I had a problem with my vehicles and boat registration address that I could not resolve myself on your web page. I tried but could not find the way myself. Finally I got the help from Lori, she took care of my problem. I just wanted to say thank you for having folks like Lori. Most people complain without hesitation so I want to say thank you also without hesitation. THANK YOU LORI great job.
Today I was assisted for the second time this week by Nathan (I don't know his last name, but I do know that he recently completed an internship with a golf company) at the DMV on 34th Blvd in Gainesville. He helped me with a complicated vehicle registration involving registering a recently purchased out of state lease buyout for a non-Florida resident active duty service member. As an active duty Army physician I keep very busy and greatly appreciate the amount of time Nathan helped me to save and the assistance he provided. I believe that he is an excellent asset for the department of motor vehicles and that he deserves to be recognized as such. Thank you.
The best service I had in a long time. Rachel should get a raise, the best. God bless Rachel.
"Extremely pleasant and helpful!!!!!"
"I love the customer service here!"
"Super helpful with explaining the process and making it easy!"
"I was actually looking for a page to make a comment regarding my experience today December 27, 2018. Zachary and Kay in the southwest branch went above and beyond in the most professional manner to help my daughter get her title transfer issues resolved. Thank you!"
"Extremely knowledgeable and efficient!"
"Changed my address on my license yesterday. Staff was so wonderful and helpful. Thank you for hiring such wonderful people. Tyler was so very nice and helpful. Thanks!"
"All the staff here are wonderful & good spirited too."
"I must say I had a pleasant experience here. I made an appointment on a Friday morning and was seen immediately. I came to get a new tag. They were a bit unsure if I had the right documents, so the young lady at the front desk checked with her supervisor and assured me I did. I then went to the window where even after some complications (on my part) the agent was very calm, kind, and patient!"